I recently just got back from some awesome trips in Japan, Thailand and Hawaii and I posted travel videos about each.  And I've been getting a lot questions about my process for planning, shooting and editing these types of travel videos. So I put together my Top 10 tips to improving your travel videos. Now, this is a loaded topic and there are a lot of things to cover, so I decided to create a Mini-course with 3 length videos covering my full process from planning, shooting and editing Travel videos. You can buy the course HERE, or if you're already a member of my Online course: Full Time Filmmaker, you'll have access to it already.
However, to give you a preview of the Mini Course, I uploaded Part 1 of 3 to my Youtube Channel, where I cover my Top 10 tips to improving your travel videos.
Essentially, shooting a travel video comes down to 2 main things: Planning ahead, and capturing a variety of beautiful content.
Plan Ahead
We had planned about 10 days in Thailand, but during those 10 days we took about 10 plane rides and spent 40 hours in bus rides in order to get a large variety of Thailand's best locations! Before the trip I did a TON of research to find out where to go and what would look the best in our video. And once I figured out all the locations we wanted to visit, I put together a detailed itinerary of our 10 days in order to keep us on track. Something that was also very helpful was having a local there, My Mate Nate, who could show us around, speak the language, and help know of any other stunning locations that we might have missed. Picture below is just one day of the 10 that I planned out hour by hour.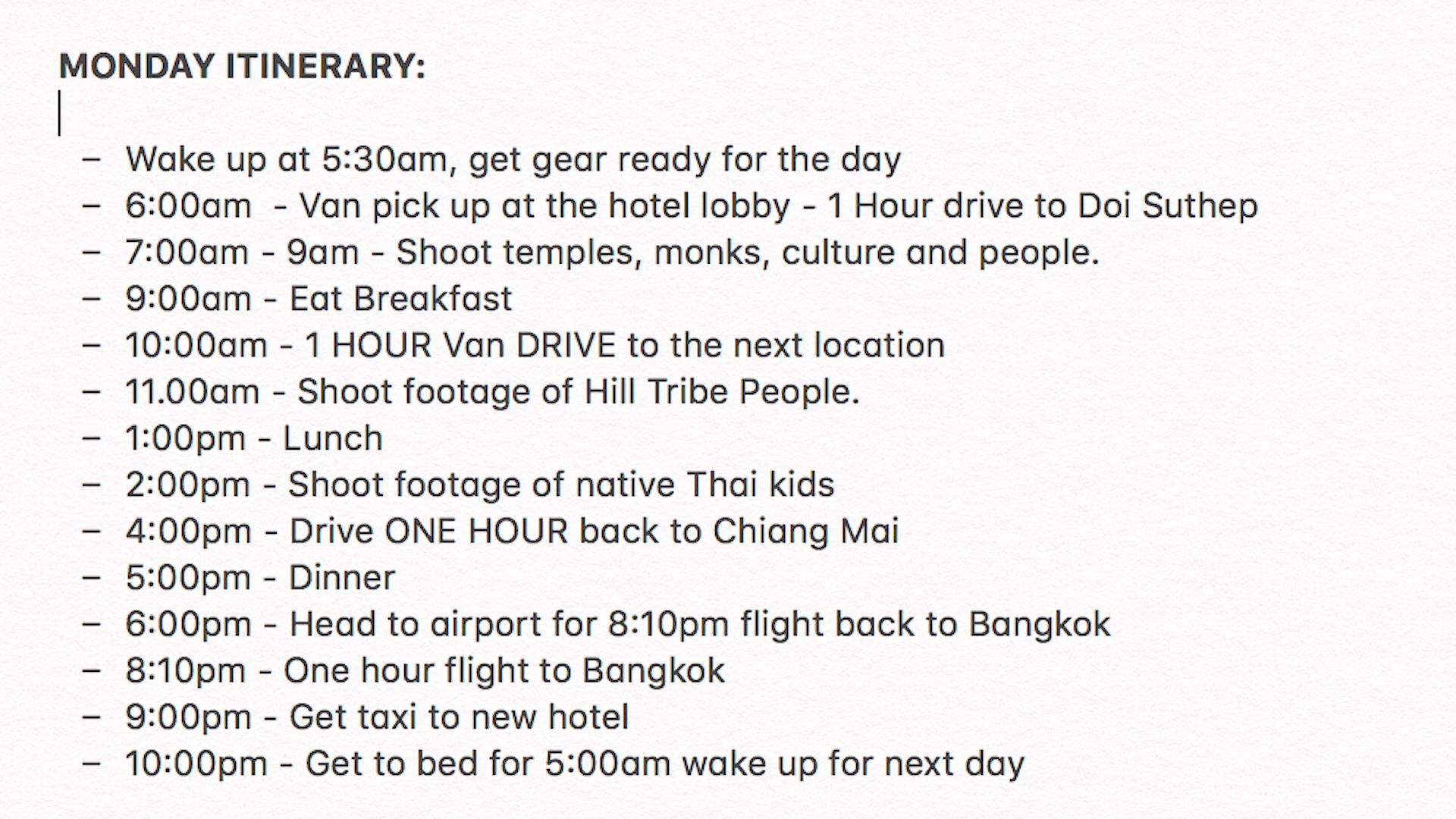 Capture Variety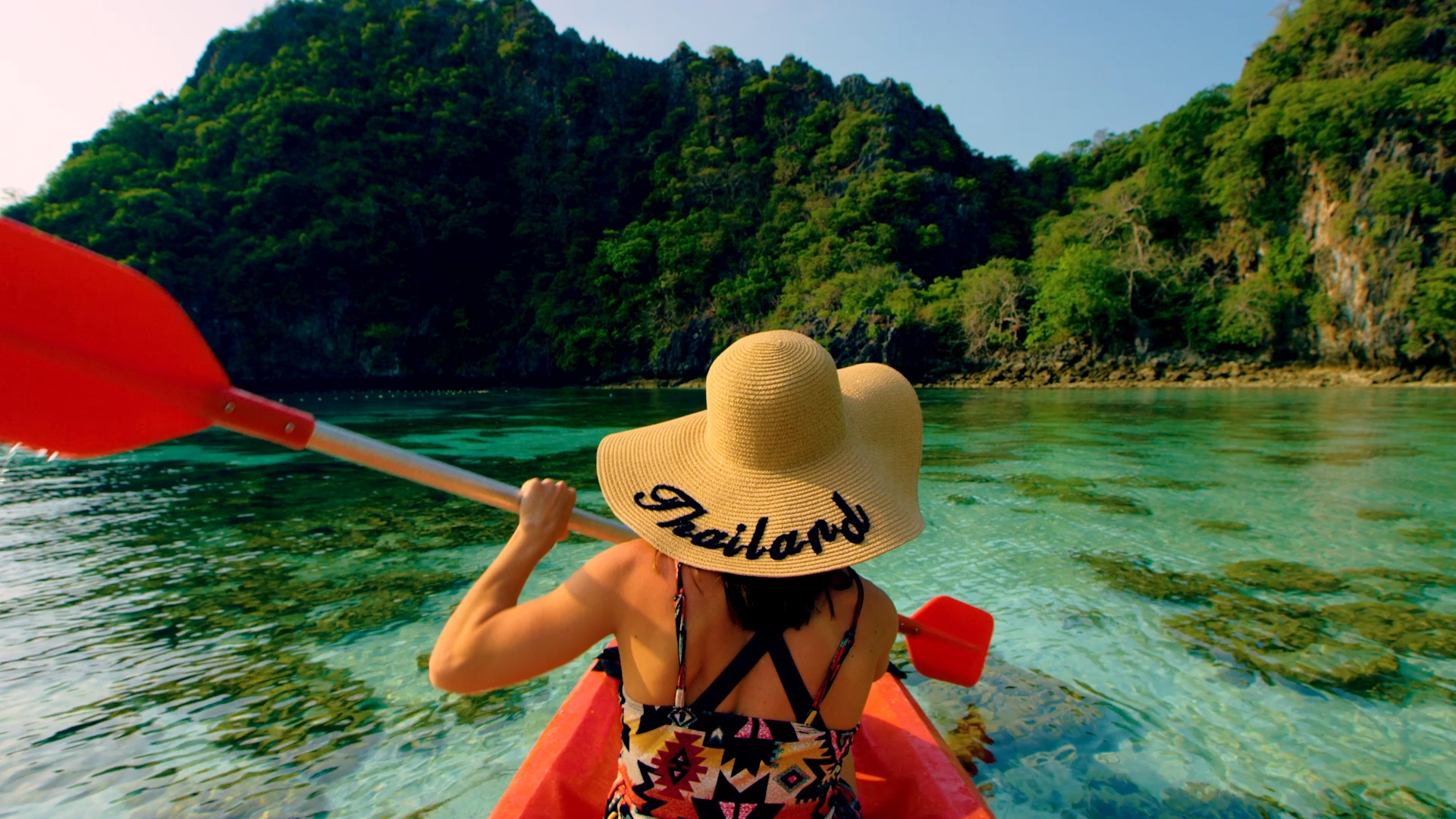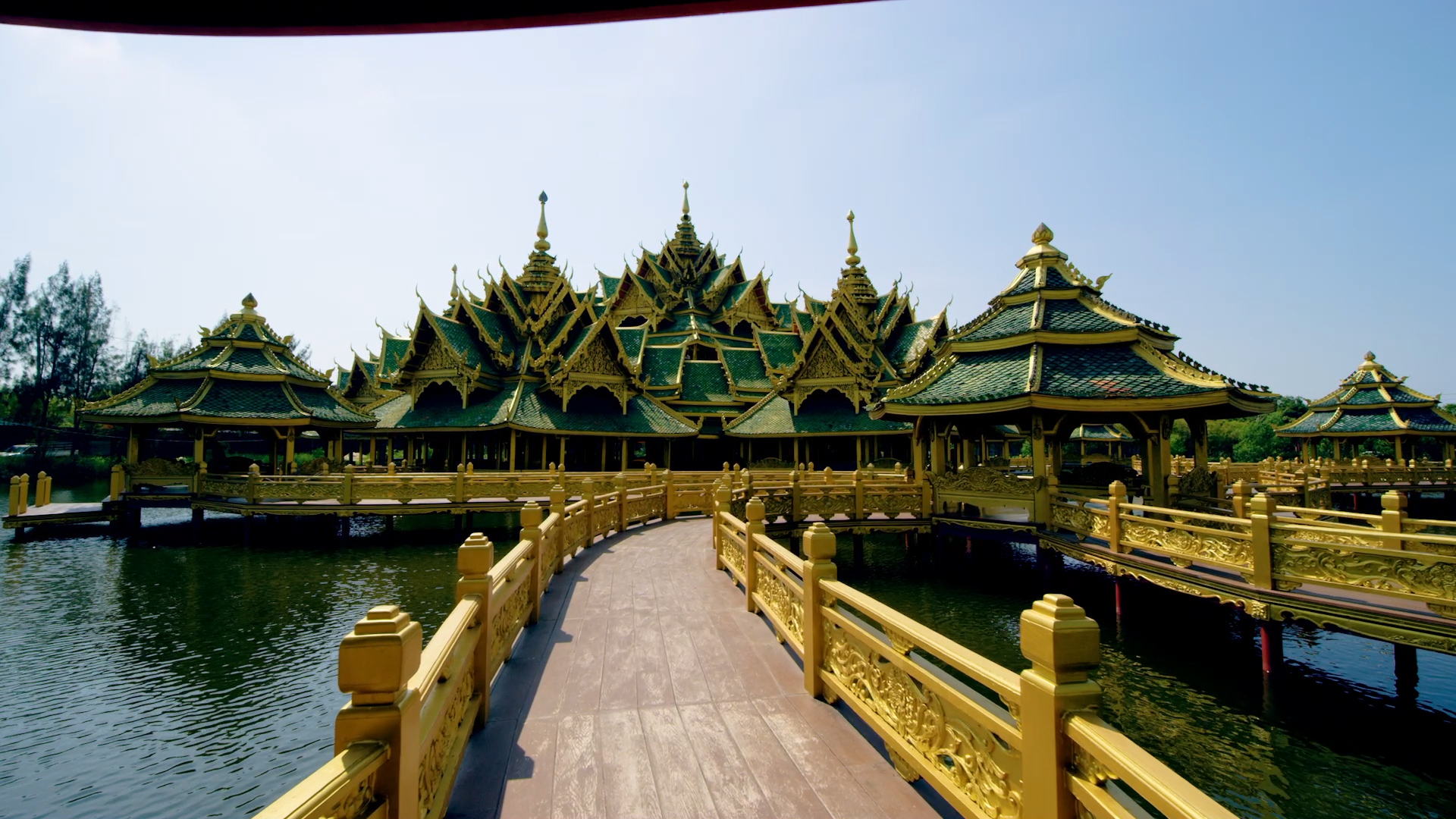 A common mistake I see amateur filmmakers make with their travel videos is they don't capture a variety of content. They'll sometimes publish a 4 minute video of them at 2 locations doing 2 or 3 different activities which causes the video to feel long, repetitive and boring. When you're shooting a travel video, you want to show off as many different locations, events, and activities as possible – hence why we took 10 plane rides and spent over 40 hours on busses. Instead of filling your video with amazing shots and some mediocre ones, make sure your video is 100% filled with only your BEST footage. Hence the need for variety.
Going into this trip, I was unsure of the story I was going to tell with my footage. All I knew is that I wanted to create a video that showed off God's majesty in His creations. I knew I wanted to capture people, religions, animals, stunning landscapes and architecture like ancient ruins and temples. A huge mistake a lot of filmmakers make is they create "travel" videos that end up being just a montage of cool locations and themselves doing fun things. But there is no depth to it! You want to engage your viewer, create emotion, and tell a story. Whether that's an emotional, inspiring story like I chose to do – or a fun, adventurous story. That's where your creativity comes in. But the same principle applies – CAPTURE VARIETY.
Again, to see my top 10 tips in depth, watch the full video HERE, and if you want Parts 2 and 3 of How to Shoot a Travel video, visit fulltimefilmmaker.com where you can purchase my Online Film School that teaches you what camera equipment you should use, and how to make a successful living with it. Or you can also purchase JUST the mini travel course which includes all 3 parts of How To Shoot a Travel video.
And below is the final video of our trip to Thailand, enjoy!