Equipment/products used in this video can be viewed at the following links:
Camera: Canon SL2 Bundle Pack ($649) https://www.amazon.com/dp/B073VT3JMB?tag=parkerwalbe01-20
Key Light: Pro Master System ($99.95) https://www.amazon.com/dp/B002P9NIIA?tag=parkerwalbe01-20
Back Lights: ESDDI Lighting Kit ($59.86) https://www.amazon.com/dp/B015DYIQ94?tag=parkerwalbe01-20
Light Bulbs: ESDDI 85 Watt 5500k Day Light ($20 for 1) https://www.amazon.com/dp/B072XB12K9?tag=parkerwalbe01-20
Acoustic Foam: AK TRADING CO Acoustic Panels ($54.95) https://www.amazon.com/dp/B017HQVOP4?tag=parkerwalbe01-20
Spray: Ultimate Acoustics ($23.99) https://www.amazon.com/dp/B0161W6QQM?tag=parkerwalbe01-20
Parker Walbeck with Full Time Film Maker takes yet another dive into maximizing the cinematic effects of your every day image. Tanner Townsend, an aspiring YouTuber and pianist tunes in as he watches his recording studio transform from a boring, unprofessional, "my mom's basement" type layout, to a high-class audio recording studio with materials costing in total under $300! Let's see exactly what took place to make Townsend's studio look from this….to this!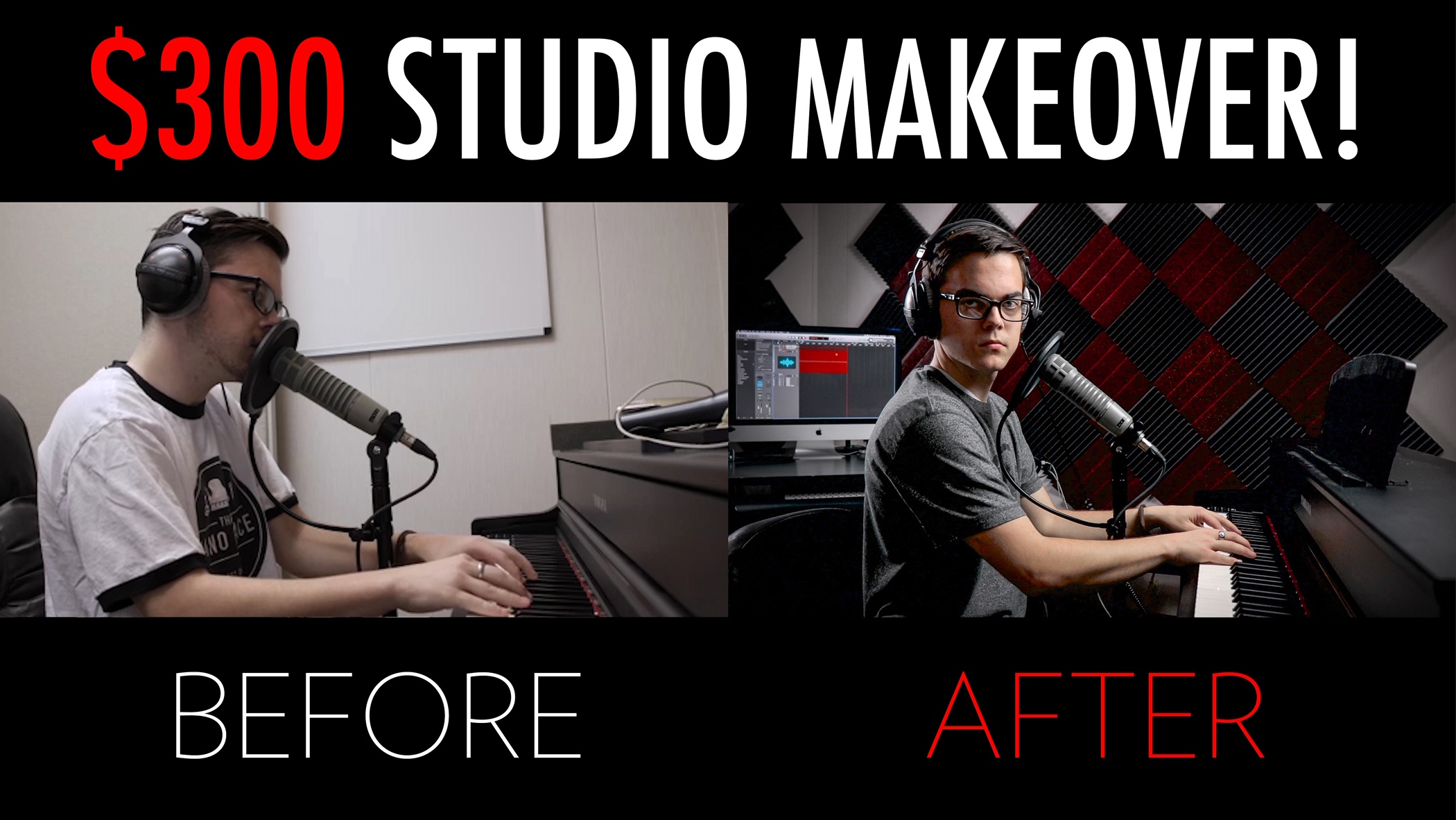 Tanner Townsend has built his YouTube following to over 12,000 subscribers with his angelic voice and top performance piano playing skills. There's just one problem, his talent for vocals and piano isn't matching what people are seeing on the screen. When Parker first walked into the office space Townsend had used for his YouTube video he uploaded just days previous, he came to find that the 10ft. x 10ft. space, nothing but ceiling lights, a half scribble-on whiteboard and random garbage scattered about room was far from professional quality. To Full Time Film Maker and professional videographer, cinematographer, and YouTuber Parker Walbeck, this was a NO-NO.
Now, its not all about the camera you are using! Too many times aspiring videographer and photographer's alike are under the impression that you cannot produce professional looking, cinematic images without the use of extremely expensive equipment. For Townsend's first attempt to shoot his video he had used a $8000 Canon C200, and in this makeover you are going to see that with just $300 worth of touch ups, lighting, and an impressive $600 Canon SL2 camera, you can produce even better looking results than that of a camera worth 13x more money!
First off, lets take care of the lighting:
The Key Light: Walbeck takes a $100 key light (and 4 light bulbs at $20 each to put in the fixture), and places it in front of Townsend and his piano positioned a little above his head to create what is a called a "drop shadow" around the chin for a more flattering look that thins out the face.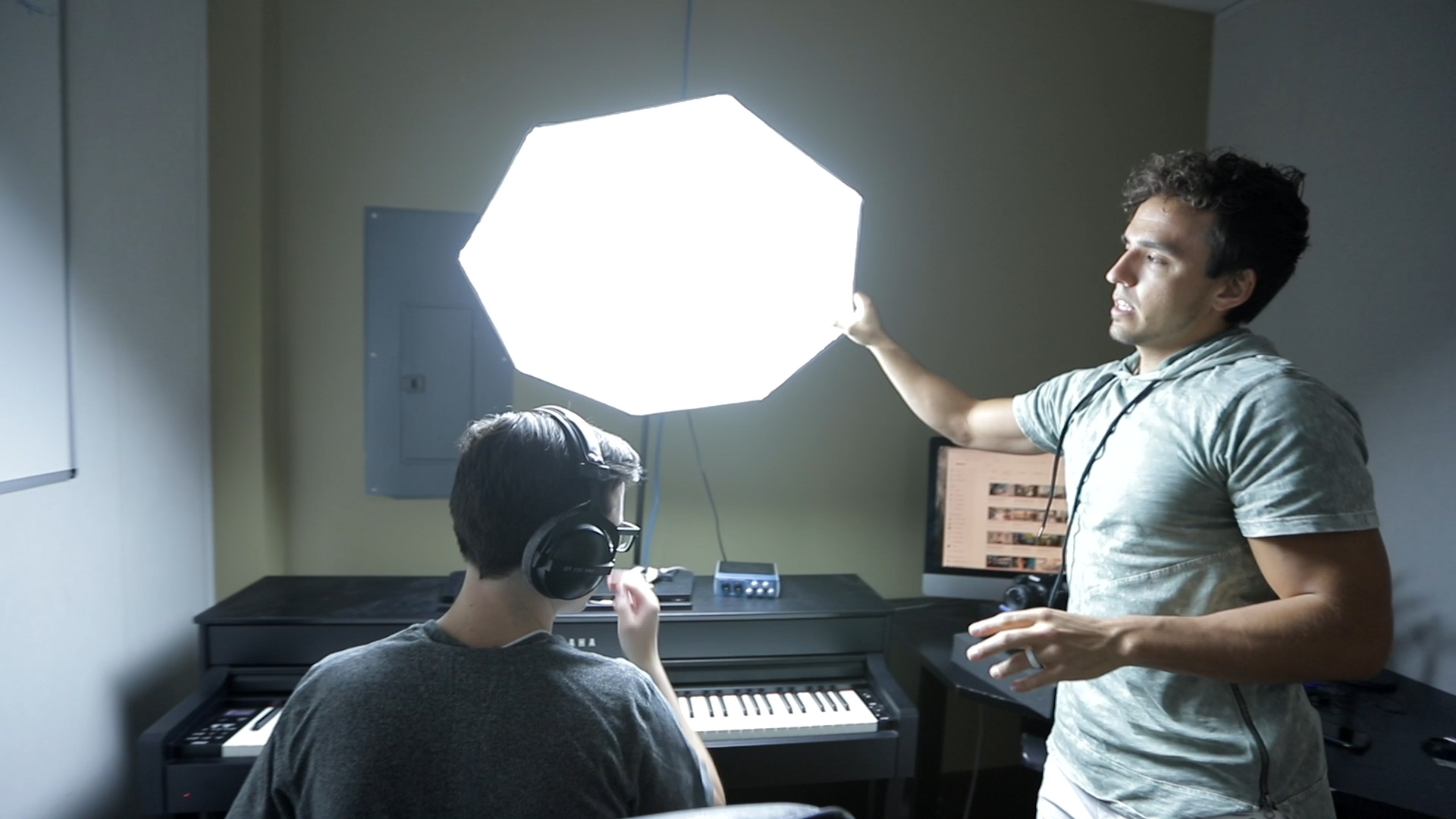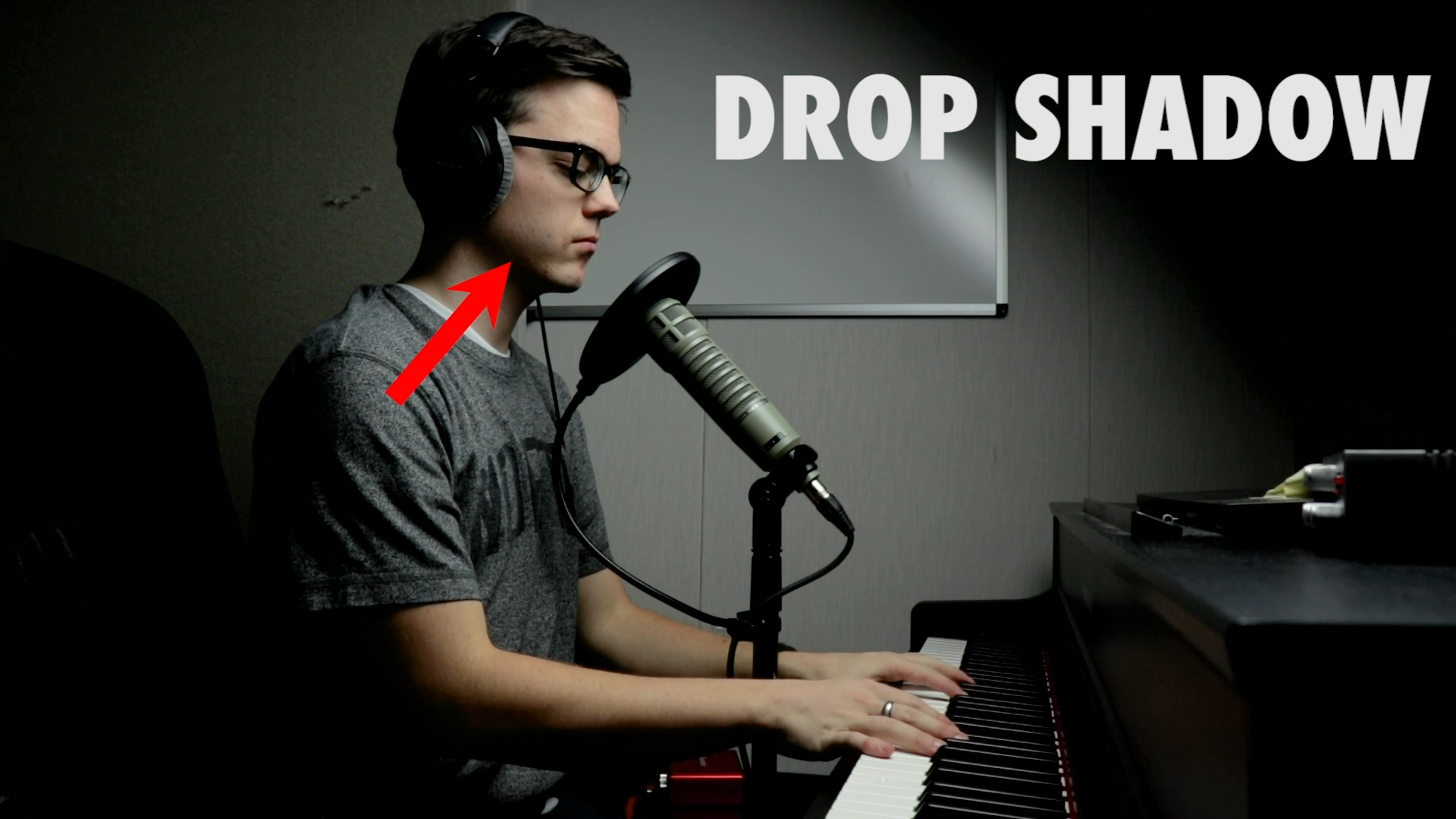 The Back Light. Walbeck then takes a two softbox light kit you can find on amazon for $60 to light up the background and to outline the subject to creates separation from the back wall.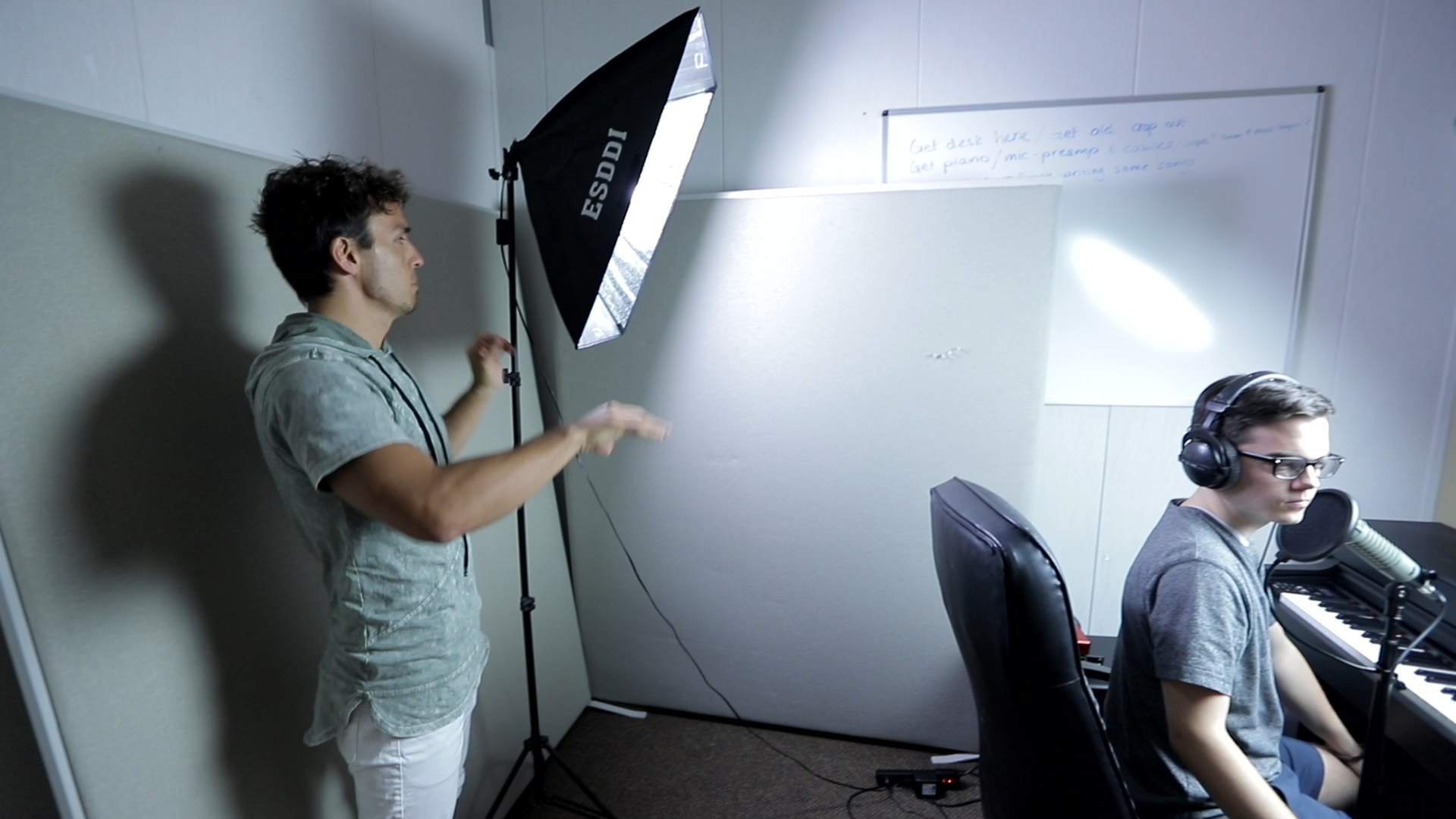 Clear the Background and Redesign. This white back board chilling in the back of Townsend's frame has absolutely nothing to do with the professional music he is trying to produce.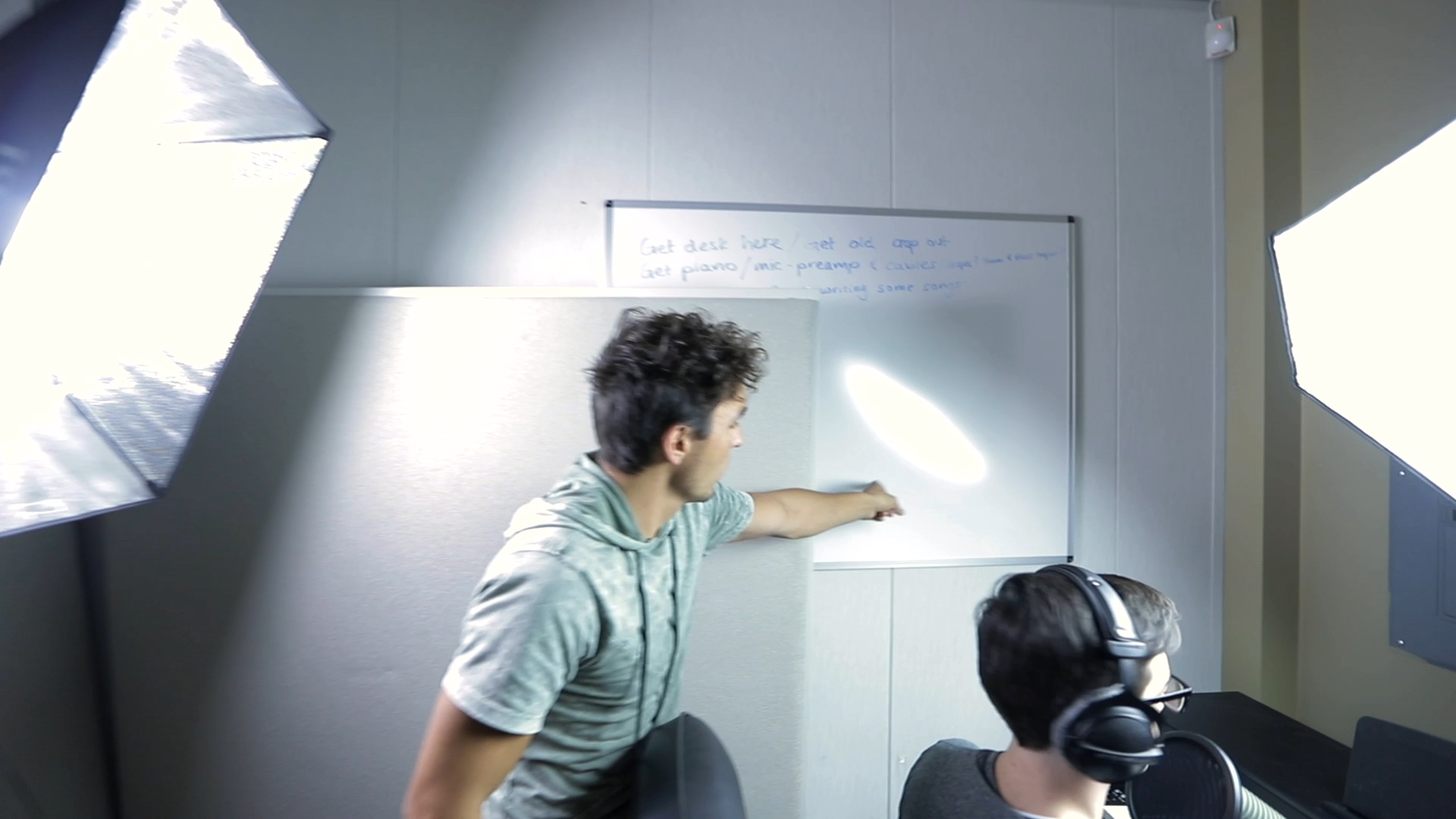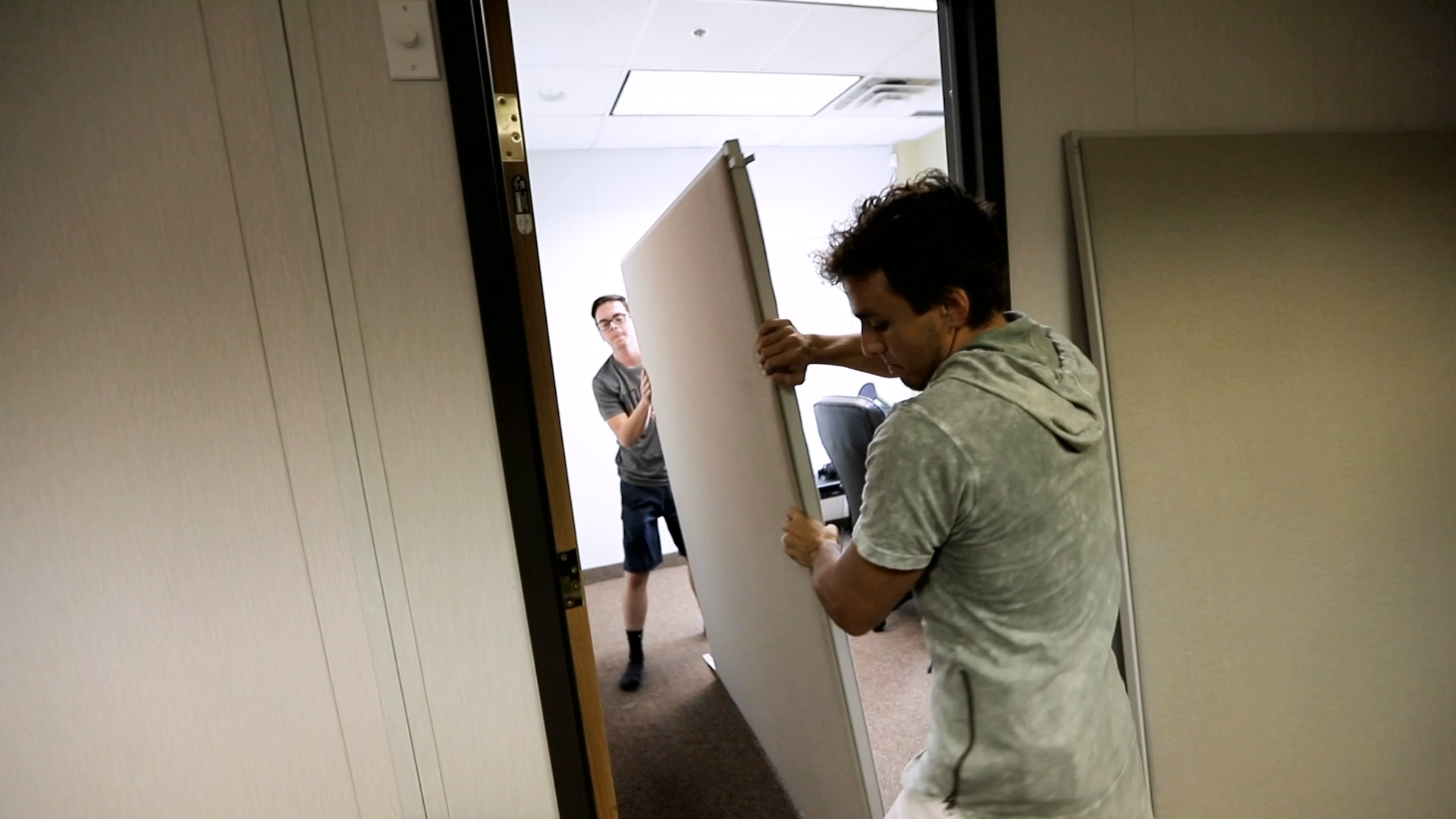 So step one is to CLEAR or REMOVE irrelevant and unattractive objects. With a little measuring, Acoustic Foam you can find on amazon for $60, and $20 spray to attach the foam to the wall you desire, you're starting to see some changes!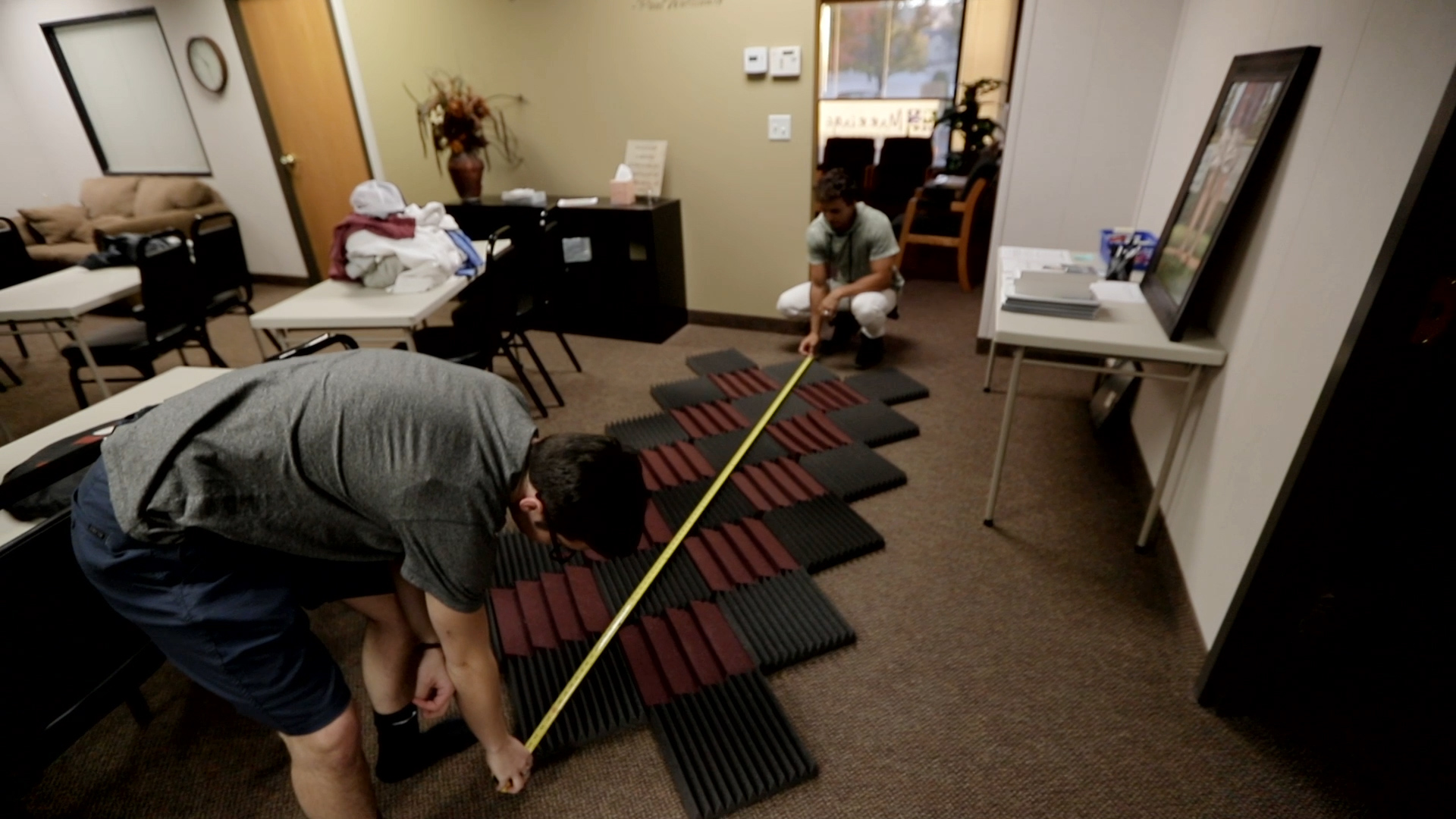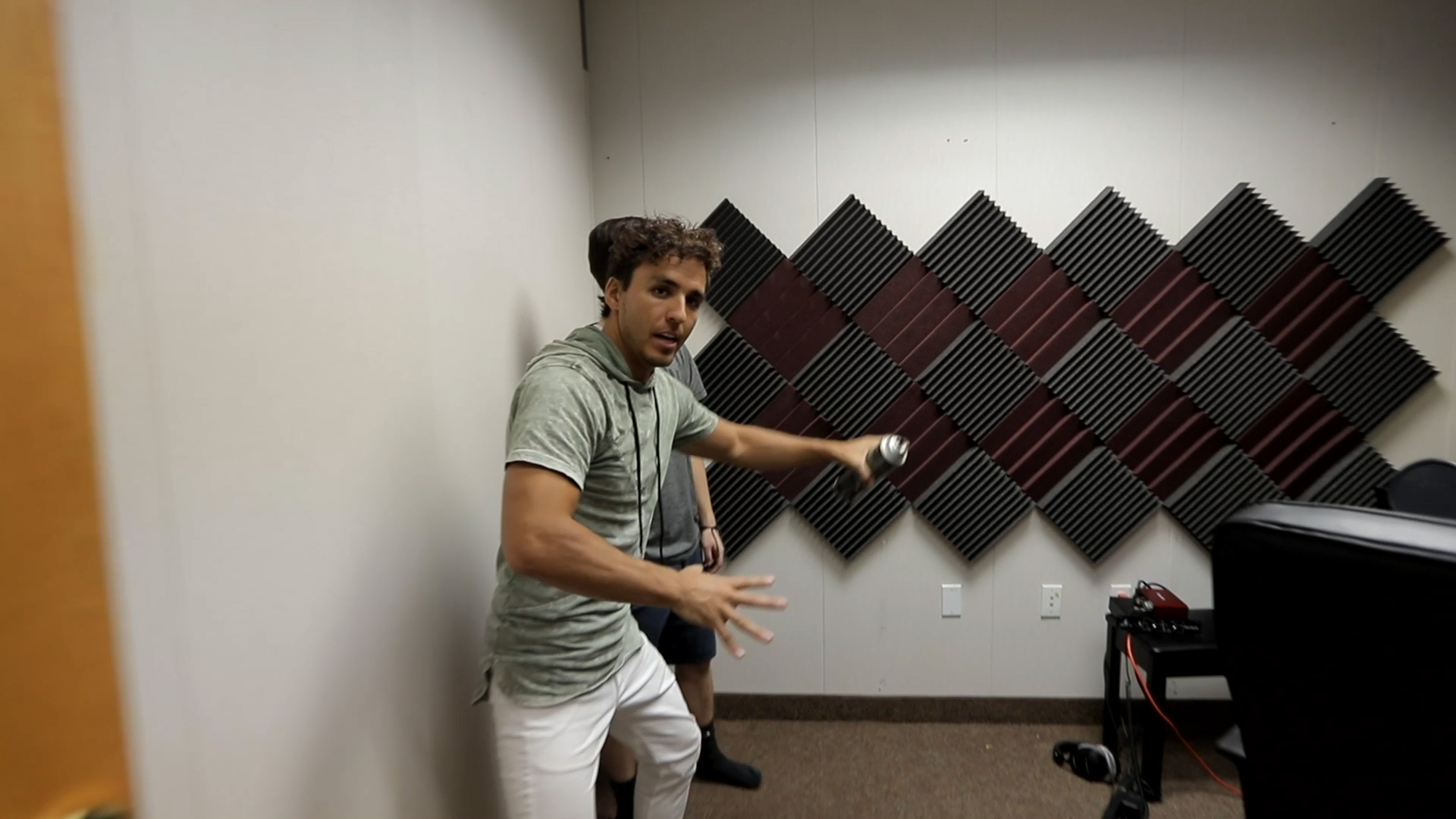 At this point we are seeing that all though the background has been prettied up, we have a back and key light, Townsend and his piano are placed so close to his background that there is a lack of DEPTH.
Create Depth. Depth is created when there is separation of the subject to the background behind him. When using cameras that can shoot low aperture, this creates a desired "blurred background" effect which helps give it a "cinematic look". To achieve this in a such a small room, the table was removed from one corner to the other allowing for an extra 3 feet or so for a low aperture camera capture some beautiful depth to the image.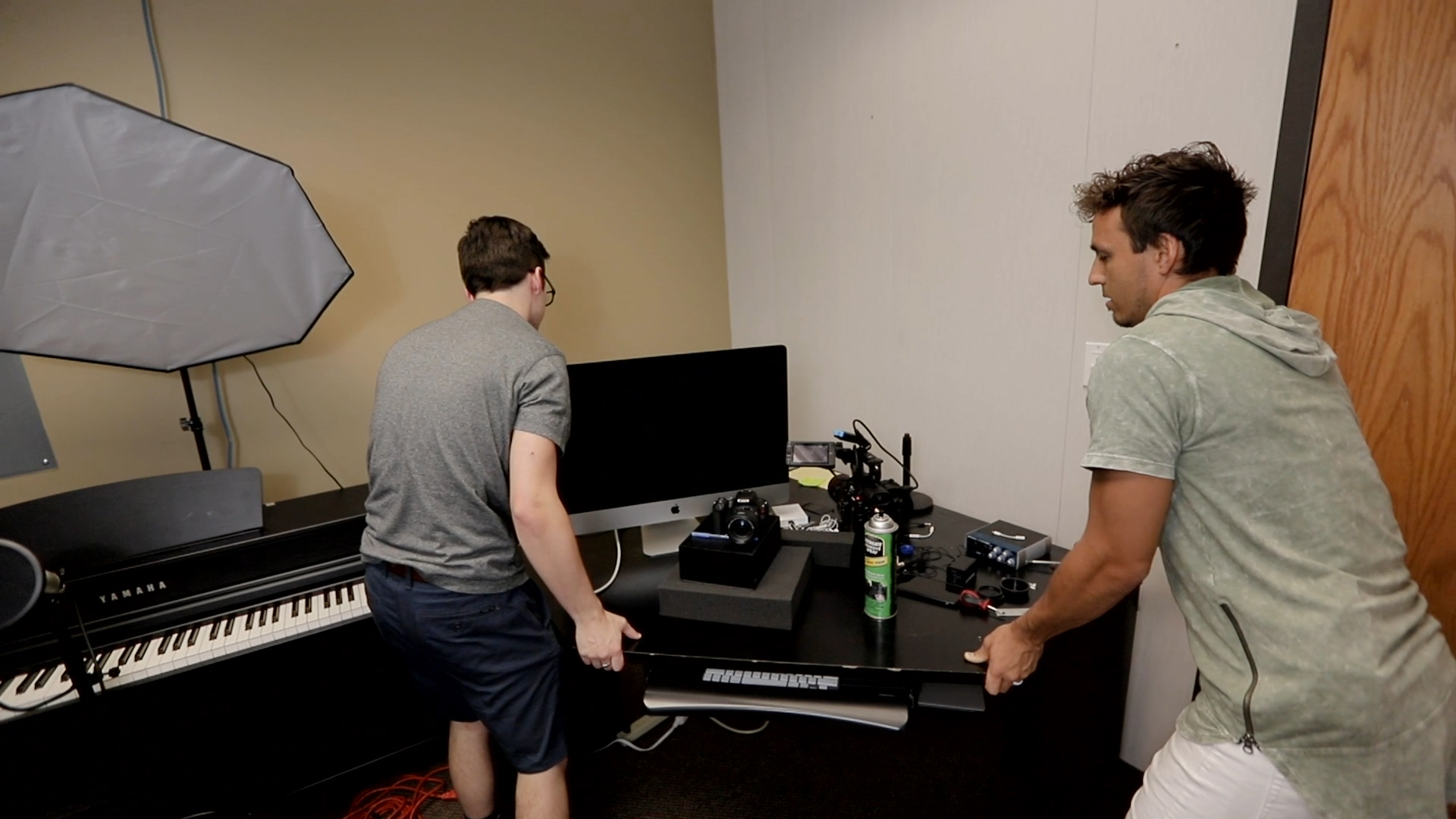 More Lighting. With depth now created, the background is still looking a darker than what Walbeck wanted and so a second fill light was placed to light the acoustic foam in the background better.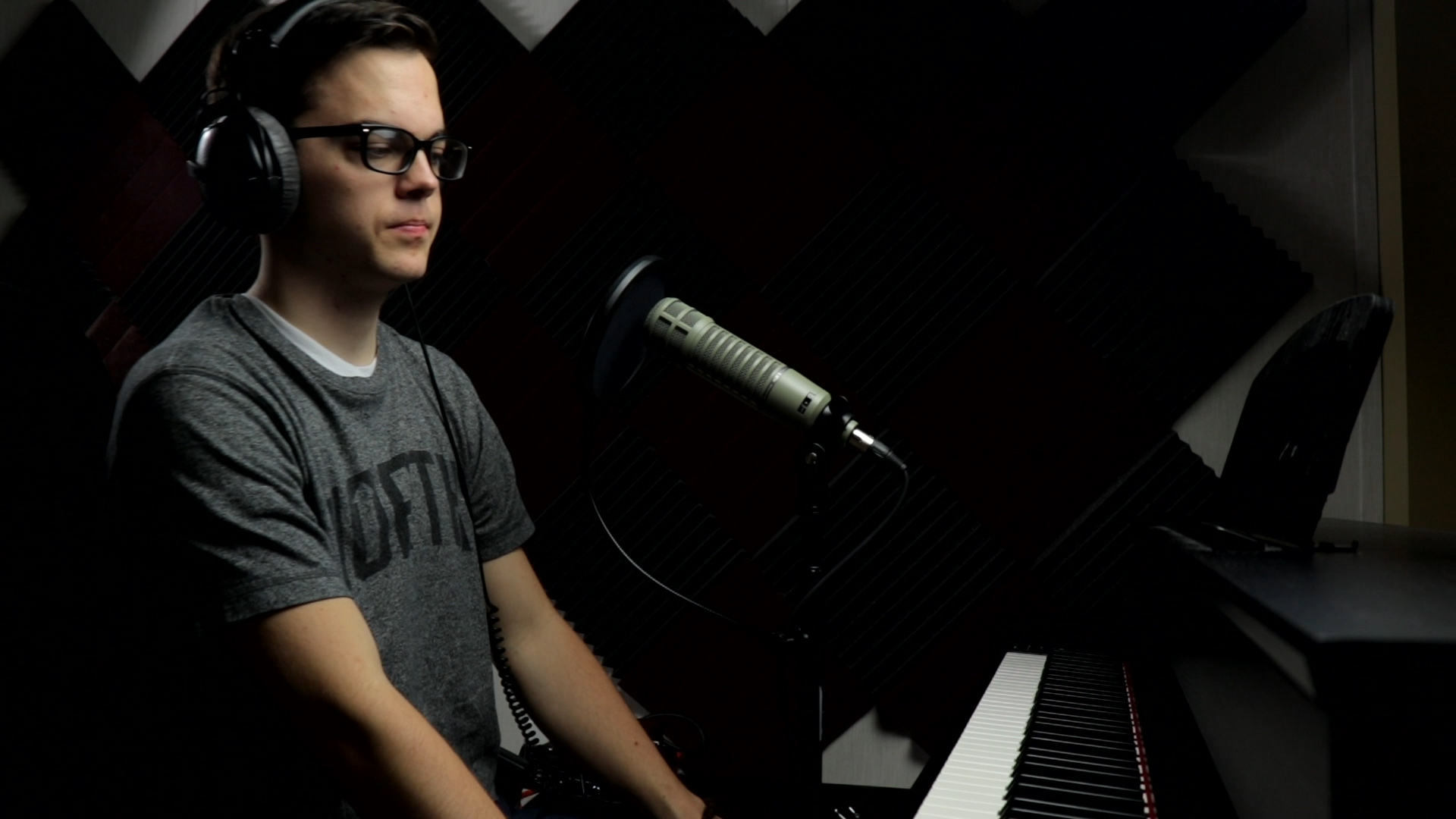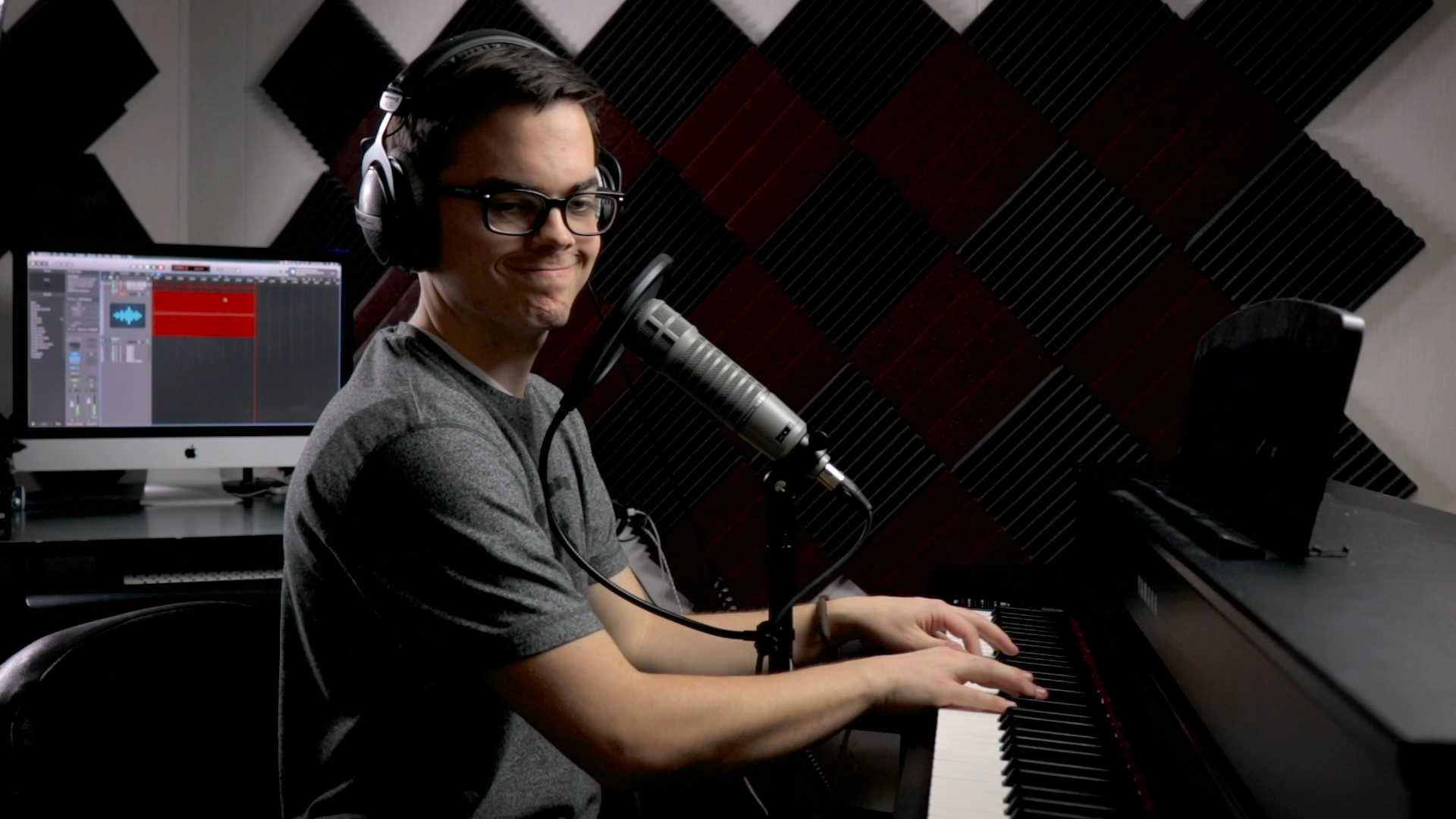 Use a Nicer Lens with a better Shallow Depth of Field (OPTIONAL). The last step in transforming the image of the video is Walbeck took the kit lens (cheapest option) to a lens with a more shallow depth of field.  With this lens in place, Walbeck was able to produce a image with a 1.4 aperture creating the desired blurred out background effect verses the 4.0 aperture. Notice the computer placed in the background and how the depth of field, and a nicer lens allows for the desired blur in the background.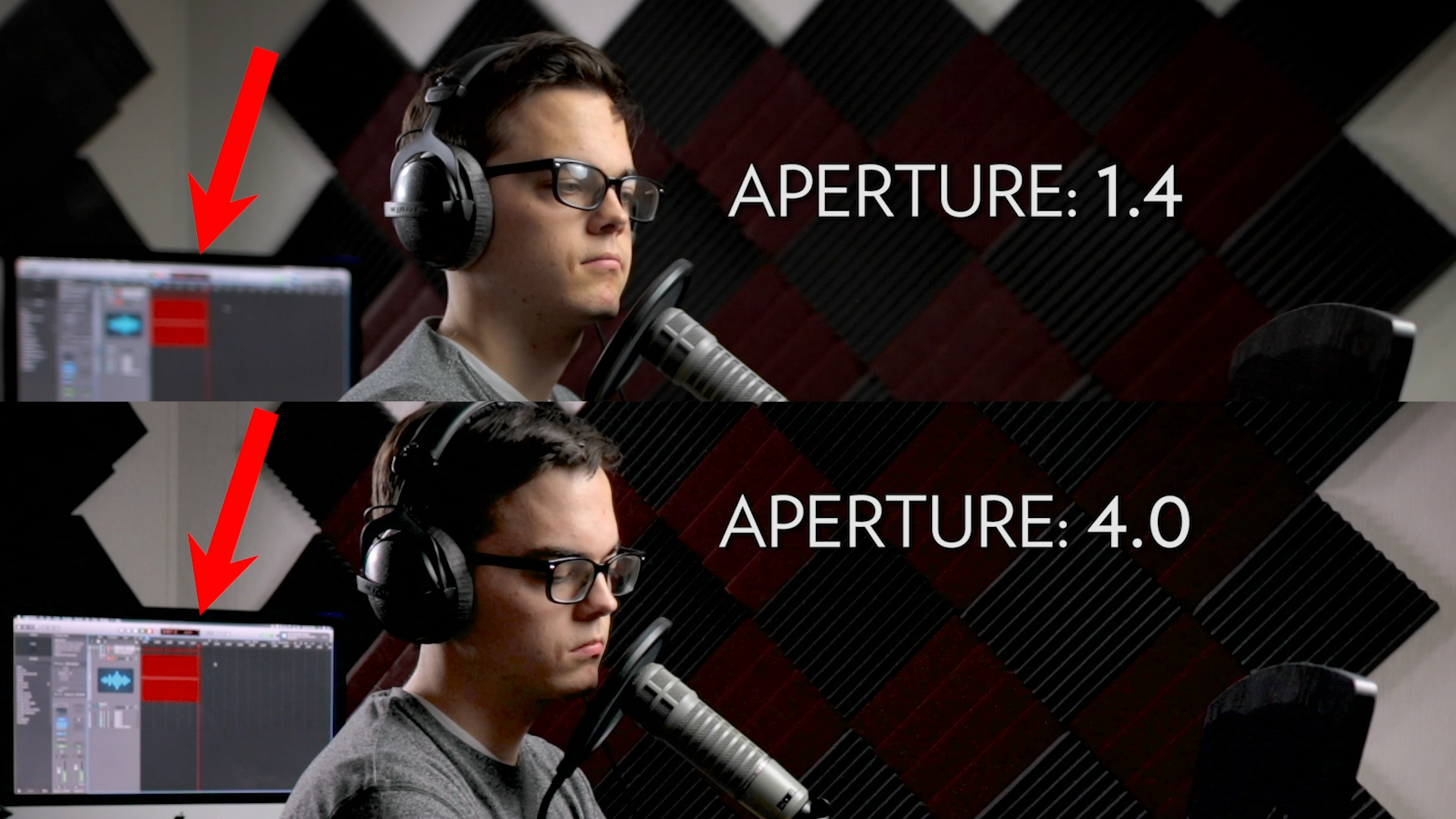 That my friends, is a wrap! Look at the results you can see by simply making a few cosmetic changes with a key light, some back and fill lights, and some acoustic foam.  This complete makeover cost Walbeck less than $300! Not to mention the camera was downgraded $7400! It doesn't matter how tight your space is, how unprofessional your image may look now, with just a few minor changes, you can make your studio come to life!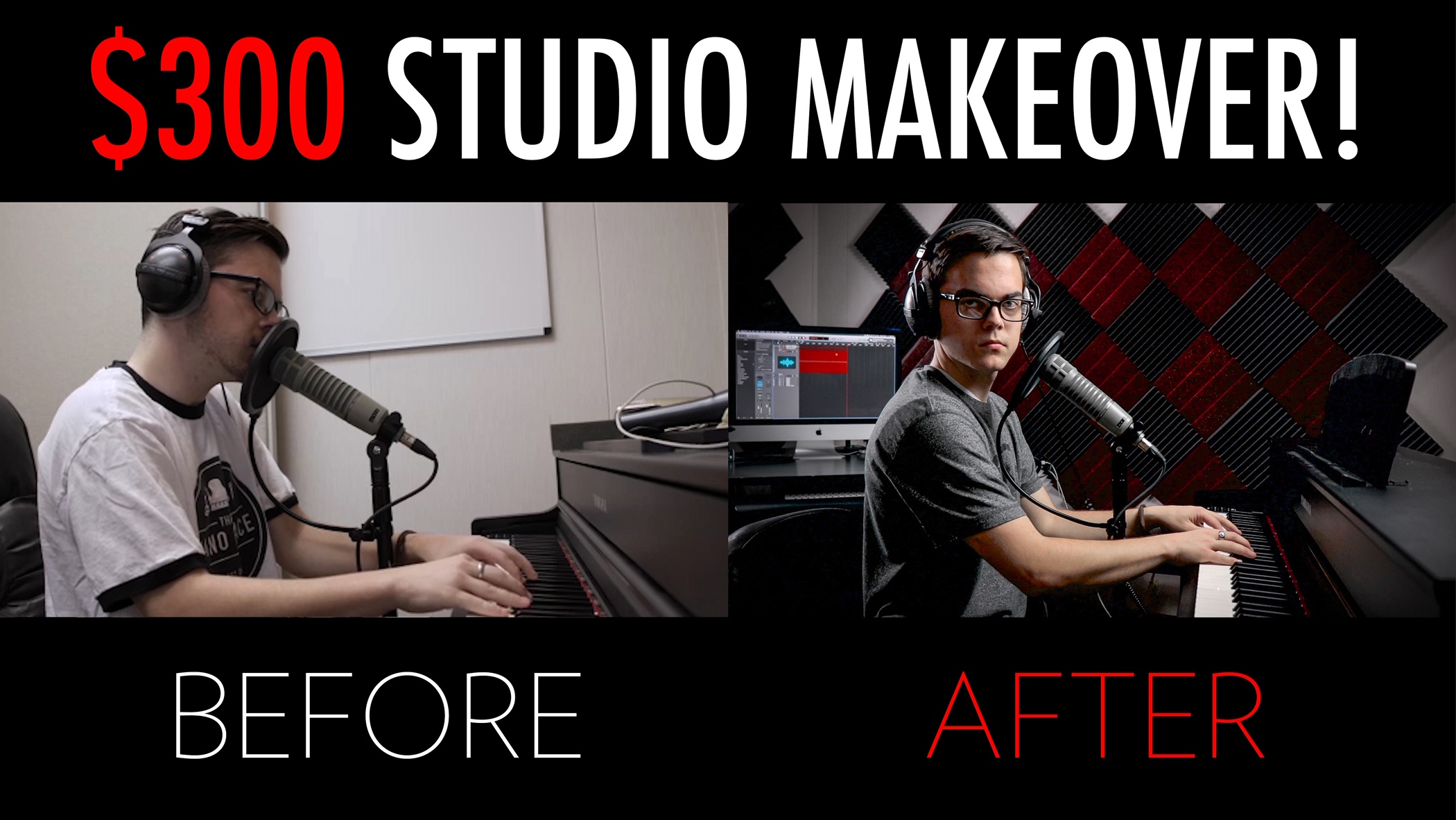 If you have any further questions on lighting, camera equipment, post production, videography, and much much more, take a look at Parker Walbeck's course Full Time Film Maker, and the dozens of free YouTube videos he has created at the bottom of this article giving you a look at some more expensive lighting recommendations and more advanced lighting techniques!